Dr Mahathir says he responded to letter from Israel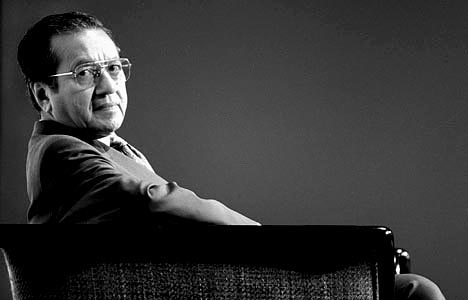 IPOH: Former
prime minister Tun Dr Mahathir Mohamad
says it is true that the Malaysian government, when it was under his administration, responded to a letter sent by Ehud Barak, the Israeli Prime Minister then.
He said Israel wanted Malaysia to change its stand on its international relations with Israel.
"I responded saying that Malaysia will not have any ties with them (Israel) for as long as they refused to acknowledge the rights of the Palestinians," he told reporters after the launch of the WaqafWater4Gaza Peace Expedition here Thursday.
Dr Mahathir, who is Perdana Global Peace Foundation president, said he had wanted to publish the letter, but the Malaysian government was against it.
He said this in response to postings by some bloggers on a letter he had written to Israel when he was the prime minister of Malaysia.
On the presence of products from Israel in the country, Dr Mahathir said they could have been brought into the country by a third party as Malaysia had no trade relations with Israel.
"Before, we did not have ties with South Africa, but other parties bought rubber from us to sell to South Africa.
"Likewise palm oil. Our palm oil is bought by third parties who then re-sell it.
"I also know of persimmons being brought into the country. The fruit is not labelled from Israel, but enters through Singapore. The Singaporeans bring it into Malaysia, but we don't have diplomatic ties with Israel," he added.
At the function, the foundation received a total of RM282,158 contributed by various sports bodies, political parties, government departments and agencies and the Perak state government.
The WaqafWater4Gaza Peace Expedition aims to ship 1.5 million bottles of mineral water to Palestine.
Source : Bernama
Mahathir Jawab Surat Israel
Reviewed by
Maaf Sebut
on
Februari 23, 2012
Rating: